HANDMADE BACK COMBED CLIP-IN DREADS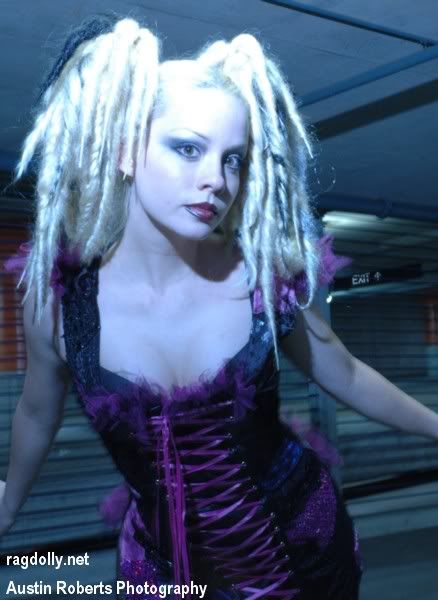 Above image is Jessica from the Cruxshadows modeling blonde clip-on backcombed dreads.


Model Loan is wearing dread clips of a dark brown base with gold, black, and blonde mix accents.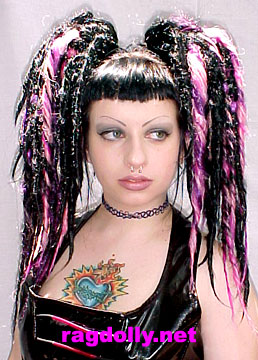 Dreads in the photo above are short clip in dreads base color black with baby pink, neon violet, and plum purple accents. Purple glitter beads added in small amounts.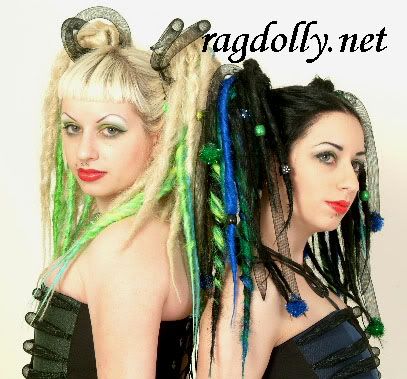 Above image is Alice and Amy of retroglam.net wearing clip on dreads. Alice (blonde) is wearing a short pair of dreads in blonde base with lime, light blue, and lemon lime accents w/ glitter beads. Amy (black hair) is wearing a pair of short dreads in black base with lemon lime, cobalt blue, lime, and emerald green accents (mesh tubes for added and glitter poms, as well as beads).

---

DESCRIPTION:
These are thick backcombed dreads with tapered ends. Since they are mounted on a clip, there is maximum height (as seen on the model) and no fiddling with the dreads to make them look bigger and no bobby pins. Dreads are about thumb thickness, sometimes thicker.
There are 20-25 dreads mounted on each ponytail ordered.
For maximum height: clip over buns instead of ponytails.

Warning:
These dreads are massive and are guaranteed to give you big hair. If you fear big hair, then please email us to request skinny dreads. We can make those too!

---

BENEFITS OF CLIP-ON DREAD PIECES:
1. Clip on in one second, no messing with bobby pins.
2. Maximum height and "big hair"
3. Mounted on heavy duty claw clip with drawstring option. (We can mount on fabric covered elastics at your request, but elastics are not as long lasting as our signature wiglet clip.)
4. Does not need to be brushed or washed
5. Dreads are thick and sturdy
6. Hairpiece may be carefully removed from the claw clip and used as a drawstring bun cover.

COLOR NOTICE:
If you want a matching pair of falls, please order them both at the same time. If you order a single fall, and then order another later, it will not match. Please carefully make the decision if you are just ordering one fall, because we cannot exactly match it at a later date. There are only 3 fields for colors listed in the ordering drop-down menu, do not let this limit your creativity. Please fill out any additional (and unlimited) colors or requests in the comments section upon checkout, we will be happy to work with you to fit your needs. We do not charge additional prices for blends or swirls, they come included in base price.

SHORT CUSTOM DREADS (8-14 inches tapered) :
$90.00 per hairpiece (you will need to purchase two to make a pair)
$72.00 per clip - 20% off until September 1st, 2011! Short clips only


LONG CUSTOM DREADS (8-24 inches tapered) :
$150.00$90.00 limited time price per hairpiece (you will need to purchase two to make a pair)
*This hairpiece includes 5 long dreads and 20 short to mid length dreads.

---
PRE-MADE WEBSITE SALE:




BEWITCHING SINGLE CLIP IN DREAD FALL
Colors: Black base with accents in silver white.
Quantity Available: 1 single fall
Length of falls:(Long) Shortest dread about 8 inches and longest dread about 24 inches long
Dreads on fall: 25 dreads
Shipping Time: Ship out within 5 business days after payment received.
Price: $80.00 for single fall


CUTIE CLIP IN DREAD FALLS
Colors: #613 blonde base color with accents in lavender (light purple) and light pink.
We will be glad to add a few matching beads for free at your request.
Quantity Available: 1 pair
Length of falls: (Long) Shortest dread about 8 inches and longest dread about 24 inches long
Dreads on fall: 25 dreads per clip, 50 total on pair
Shipping Time: Ship out within 5 business days after payment received.
Price: $175.00 for a matched pair


CYBER CLIP-IN DREAD FALLS
Colors: Black base with lime green (not UV reactive) and cobalt blue swirl accents.
We will be glad to add a few matching beads for free at your request.
Quantity Available: 1 pair
Length of falls: (Shoulder length) Shortest dread about 3 inches and longest dread about 14 inches long
Dreads on fall: 25 dreads per clip, 50 total on pair
Shipping Time: Ship out within 5 business days after payment received.
Price: $130.00 for a matched pair


INDUSTRIAL CLIP-IN DREAD FALLS
Colors: Black base with blended swirls of UV glow lemon lime, cobalt blue, lime green, and emerald green.
Human hair tracks are also swirled into these dreads to make them more realistic.
We will be glad to add a few matching beads for free at your request.
Quantity Available: 1 pair
Length of falls: (Shoulder length) Shortest dread about 3 inches and longest dread about 14 inches long
Dreads on fall: 25 dreads per clip, 50 total on pair
Shipping Time: Ship out within 5 business days after payment received.
Price: $130.00 for a matched pair