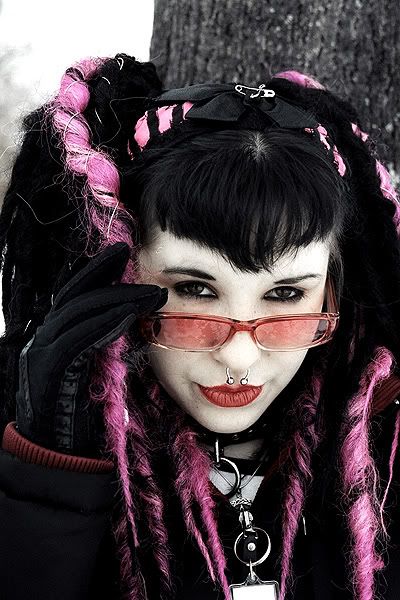 above image is Calidh
Taking photos is fun, and a great way to promote yourself or your website. We have many visitors to our site daily that enjoy being inspired by your creations with Ragdoll's products. If you are in a photoshoot, at a party, or getting dressed up for a night on the town; those are all excellent times to bring a camera and document your fabulous hair. Even if you made a doll or rerooted a pony, we would love to see. At Ragdoll Boutique, your photos are greatly appreciated and enjoyed by all.

To send in a photo email us with the following:
1.The name that you want to go by in the gallery.
2.Optional: Your homepage address (use this to promote your website) or your email address (people can contact you directly).
3.Your image(s) in the exact URL (website location) where it is located in JPG or GIF format. We do not accept attatched files or browse gallery pages searching for your photo. We prefer images to be under 200K each. We highly recommend that your images have your name and webpage on them, we can guarentee that they will definitly be stolen by onlookers. This is an excellent way to promote yourself and your website.
4.Are we allowed to use your images in banners, buttons, or anywhere else on this site? [yes or no]
Disclaimer: All pictures here are not here for the taking, please do not nab them. Images here were generously given to us by the rightful owners with their consent. All photos are of Ragdoll Weave Co. customers WEARING Ragdoll Weave Co. products only. If you are a customer and would like to earn $5.00 credit on your next order, then please send us a photo of you in OUR products. Sorry, but we do not want to mislead others and show pictures of other companies products.
Credit for pictures: Once we receive your photos via email, we will respond to let you know that they will be used. You will receive $5.00 off your next order per group of pictures or product style.
Redeeming your photo credit is easy: When using the website shopping cart to place your order, please let us know in the comment section, that you are redeeming $5.00 credit and the name you go by in the gallery.
Photo Quality: We have the right to refuse photos of poor quality. We are no longer accepting webcam photos. The photos we are looking for are in good lighting, where you can see a few inches above the head to where the hair ends. Photos where the top of your head is cut off will not be accepted. The image needs to be in focus and in full color. Portrait type photos are ideal, because they show from shoulders to a few inches above the head.
Photo Shoots: If you recently had your photos taken by a professional photographer and would like them to represent products on our website or be featured on the cover page, feel free to submit them with the photographer's permission only.

Remember, your are our inspiration!
Rachel Cybotika [img]
Shlee [img]
tWILIGHTEYES [img][web][@]
Tiah [img][img]
Perkygoth [img][img][img][web]
Shelle [img][img][img][img][web]
Caleidh [img][img][img]
Blue Eyes In Winter [img][img][@]
Loki N. Vertigo[img][img][img][@]
Loki [img][@]
Amanda Keeys [img][img][@]
AsinfulMystery [img]
Aimee [img][img][@]
SerpentManifesto [img][img]
Vallen [img][@]
Lucretia [img][img]
Ghoul Girl [img]
Stephanie [img][img][@]
Ghoulycat [img][]
PinkNight Faery [img][@]
Julia [img][img]
Tenebrous Kate[img]
Madame Archel [img][img]
Phantom [img]
VividDecay and Nicolette[img]
Jola [img]
Aurora Danit [img][@]
babey kreep [img][@]
ludi*kris [img][@]
SugarPixieRaver [img][@]
Elly [img][@]
Angel of Darkness [img][@]
Infamous Mar-Mar [img][img][img][@]
BabyAngel [img]
Rachael [img][@]
Raven [img][@]
NightGrrl [img][@]
SheFell [img][@]
Tristen Citrine [img][@]
Emily [img][@]
Frivolities [img][@]
Lysteria [img][@]
Leper Queen [img][@]
maegan [img][@]
Gabrielle [img][img][img][img][@]
Beautifullychaotic [img][@]
Jamiee [img][@]
SOADchik [img][img][@]
Twistevil [img]
Starr [img][@]
mys [img]
Jinx [img][img]
FullOfStars [img][@]
Trandoll [img]
Raivyn [img][img][img][@]
Plastic Venus [img][img][img]
AngelDye [img]
Jayme [img][img][@]
KittyKomplex [img][img][img][@]
Poppy [img]
Anatai [img][@]
KorsetKitteN [img][img][@]
Nova [img]
Eris [img][@]
Heather [img]
Sparkle[img]
Beetle*Ginny [img][img][@]
DeliaLeFay [img][img]
Kaiti21[img][@]
Adrianna [img]
TransylvanianConcubine [img][@]
Andee Agony [img][img]
Catwerk [img]
Apocrypha [img][img][@]
Jazmine [img][@]
Skye [img][img]
Izzy [img][img]
SpOoNfOrKgIrL [img][img][@]
Batty [img][@]
Kathryn [img][img][@]
Goth Baybe [img][@]
Corsetta [img][img][img][img][img][@]
Darkflower [img][img][img]
Putricia DeKay [img][img][img][img][@]
Angel Absinthe [img][@]
Shpooky [img][@]
Psyche [img]